Orlando Countertops Costs & Prices
We offer high-quality and affordable granite countertops specially designed for your homes. Our company offers a wide variety of granite and quartz table tops available in different trend colors and textures for you to choose from. The company will find the best match for your home, and our team will especially design and install it for you. We have completed a number of projects across Orlando, with Pro Granite Edstone adding to the beauty of hundreds of homes of happy customers.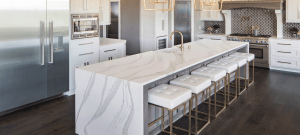 Quartz vs. granite countertops
Granite countertops have more of a natural appearance as it is shaped from a natural stone whereas, quartz is an engineered stone and is hence available in abundant colors and textures. Granite gives more of a natural look, while quartz gives more of a 'manufactured' look.
Quartz is stronger and therefore more durable than granite. However, granite is much more resistant to high heat and thus ideal for kitchen temperatures.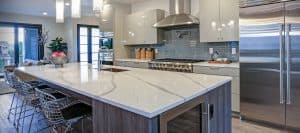 Granite is porous and slightly harder to clean and maintain. Quartz, on the other hand, is non-porous, easier to clean, and more resistant to germs.
When exposed to UV and outdoor light, quartz tends to fade in color and shine and is therefore only used for indoor applications. Granite is done lose its shine over the years and may require polishing to be good as new in ten years.
In conclusion, the choice depends on the customers and their unique requirements. In our opinion, granite is more suited to kitchen counters on account of high heat resistance, easier maintenance, and longer life. For bathrooms, quartz countertops may be more useful due to more durability, easy cleaning, and being germ-free.
Countertops prices in Orlando
Granite costs an average price of USD 70 per square foot, whereas quartz costs around USD 100 per square foot. It is important to note that some superior varieties of granite may cost up to USD 500 per square foot. Given the price difference, the granite is much cheaper and therefore more suitable for price-sensitive customers as choosing quartz will be around 40% more expensive than granite.
At Pro Granite Inc, you can find the best granite countertops in Orlando. As mentioned earlier, we have a wide variety of stones in abundant colors and textures from different manufacturers across the globe. Our specialists will make a counter or tabletops well suited to the grace of your house.