The Extreme Direct to Rock Countertops 2022
Granite counters have remained a popular option for kitchen remodels because of their beauty and durability. Temperature, moisture, and scrapes won't affect them, and they look absolutely stunning and elegant in your kitchen; we mean, that's comfort and beauty all in one; what more could you ask for? If you're planning a kitchen makeover, we plan to provide you with all the information you need to make an educated choice regarding granite.
Today, we will share with you more than a decade's worth of experience with granite counters. There is nothing we haven't seen or done to produce and install granite.
Spotting a Granite Through Its Characteristics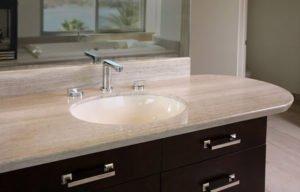 Design Considerations for Installing Granite in Your Home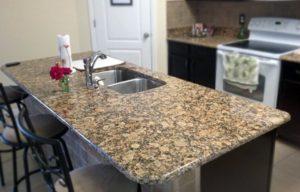 While granites are beautiful for any home, the installation process must be left to experts to make the final look as dreamy as those you see in movies. To make the process easier for our team, ensure that all other work is dealt with.
For instance, you must complete the work on the bump-outs, panels in the room, etc. This is so that once you have finalized everything, the installation or granite makers can swoop in, take actual measurements of the area and then work on the templates. 
Counters often overhang the front area of cabinets by 1 ½" -2″; this is done to cover door/draw fronts and fittings and allow for edge detail. In the same way, they'll extend 1″ -1 ½" beyond the cabinet's end. The top of a 36″ x 24″ cabinet, for example, will measure approximately 38″ x 26." (12.5 percent bigger area). This only shows how important it is to have accurate information when estimating the cost of a countertop.
Consider the following constraints before adding extra supports to a raised upper counter or bar that cantilevers over the cabinets or supporting wall.
A 6″ overhang is the maximum recommended for a ¾" completed top.

Overhangs of more than 10″ are not recommended for a 1 ¼" completed top.

For a 1 ½" completed top, a 14″ overhang is recommended.

Making of Granite for Your Homes

A slab saw is used to reduce the bulk of the stones to a size that can be handled. Granite slabs are the most common size seen in construction, between 4 and 5 feet broad and 7 to 9 feet long. Only after granite has been cut is it polished by different machinery to a consistent thickness of around 34 inch to 14 inch. As soon as the natural resources have been reduced in size, they are delivered to manufacturers that cooperate with companies like ours to transform them into countertops.

Fiberglass will be used as a backing for certain materials to increase their stability during shipment. When planning seam placements, keep in mind the size of the slabs you've picked. Cutouts in the sink or cooktop may hide seams, allowing for a small quantity of seam to be exposed. Manufacturers with expertise know where to place seams to get the greatest pattern matching throughout the seam while also lowering the amount of seam and the amount of wastage.

Variety in Granite Colors

This is the question for all those of you who are already picking the interior of your home and want your counters to match your contrast! We come equipped with answers for that as well. Did you know that the color you choose comes with a unique history? Each color of granite has a special history related to where it was extracted from and how it was made. Since it's an igneous rock, it's created due to volcanic activity. So, once the hot fire or magma cools down, its color will change. 

Granite may come in a broad range of hues, based on where it is extracted. Tones like beige and brown are among them, although they aren't the only ones available. In 2022, you can also get pure white granite countertops with beautiful veins and patterns that add a contemporary look. 

Some highly preferred colors Include Almond Gold, Andromeda White, Nordic Black, etc. 

Granite Costs on An Average

This is easily the most asked question for all homeowners wanting to install new granite countertops. And like all homeowners, we understand your first bet would have had to be Google, right? This is why Google searches for "granite cost" have seen an increasing interest over time. So, what is the average cost, really? To be honest, the answer depends! We understand you've heard this ton of times before but hear us out!  So, although there are numerous variables at play, we don't want to start with this puzzle again. 

So, get in touch with our team today for quotes. Please contact us immediately. All company's charges are also different. Some contractors may give a "cheap" price per square foot but then charge extra for cuts, borders, faucets, sealant, and backsplash.

As previously stated, each granite countertop manufacturer has unique techniques, tools, and sourcing possibilities. However, the most important thing here is that you spend the time to fully understand your counter quotation and not be hesitant to ask any questions you may have.

Get Your Granite Today!

Granite is a heat and scratch-resistant stone perfect for your home. New worktops for your house are something we'd be happy to help you with. Contact us now to get started! The design, sourcing, and assembly of granite countertops and other materials are among our specialties. When you hire us, we'll take care of everything!

Granite is a relatively low-maintenance natural stone in comparison to other kinds of rock. As long as it's sealed properly during construction and you maintain a normal sealing program, granite will retain its renowned elegance. Don't worry, though, and our experts will assist you throughout the process!