Blue Countertops: A Complete Guide
Blue granite countertops are an excellent choice for your bathroom or kitchen renovations. But excellence comes at a premium price. 
So, in this article, we'll discuss why they cost so much, their composition, the different blue granite or quartz color options, and their cheaper alternative.
Blue Granite Countertops 
It might come as a surprise, but this whole term "blue granite countertops" is a misnomer. If a blue kitchen countertop or a blue bathroom countertop is being sold in the granite category, it could be one of two things. 
First, it could be larvikite, which is a variety of other rocks called monzonite. The second potential is that the rock is anorthosite, containing a high amount of labradorite. Despite the misnomer, blue granite countertops are rare, accounting for their costly nature.
But their high cost also accompanies many value-added benefits. Blue granite countertops are convenient and require little maintenance. The rarity of the blue bathroom countertop and blue kitchen countertop gives an exotic touch to the space. The reflective nature of the blue granite colors keeps the space cool and bright. 
Check out the following variations of blue granite colors:
Blue Pearl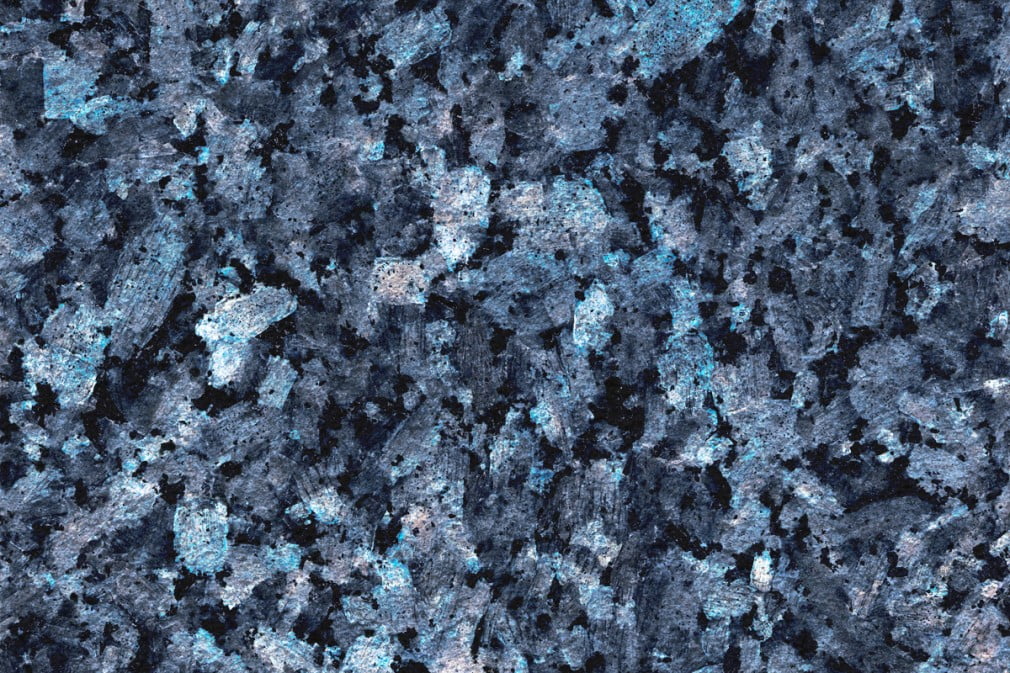 Blue pearl is one of the most beautiful blue granite colors. It features shades of blues, grays, and beige. The overall dark surface of this blue granite best complements white or light gray cabinetry. 
Sapphire Blue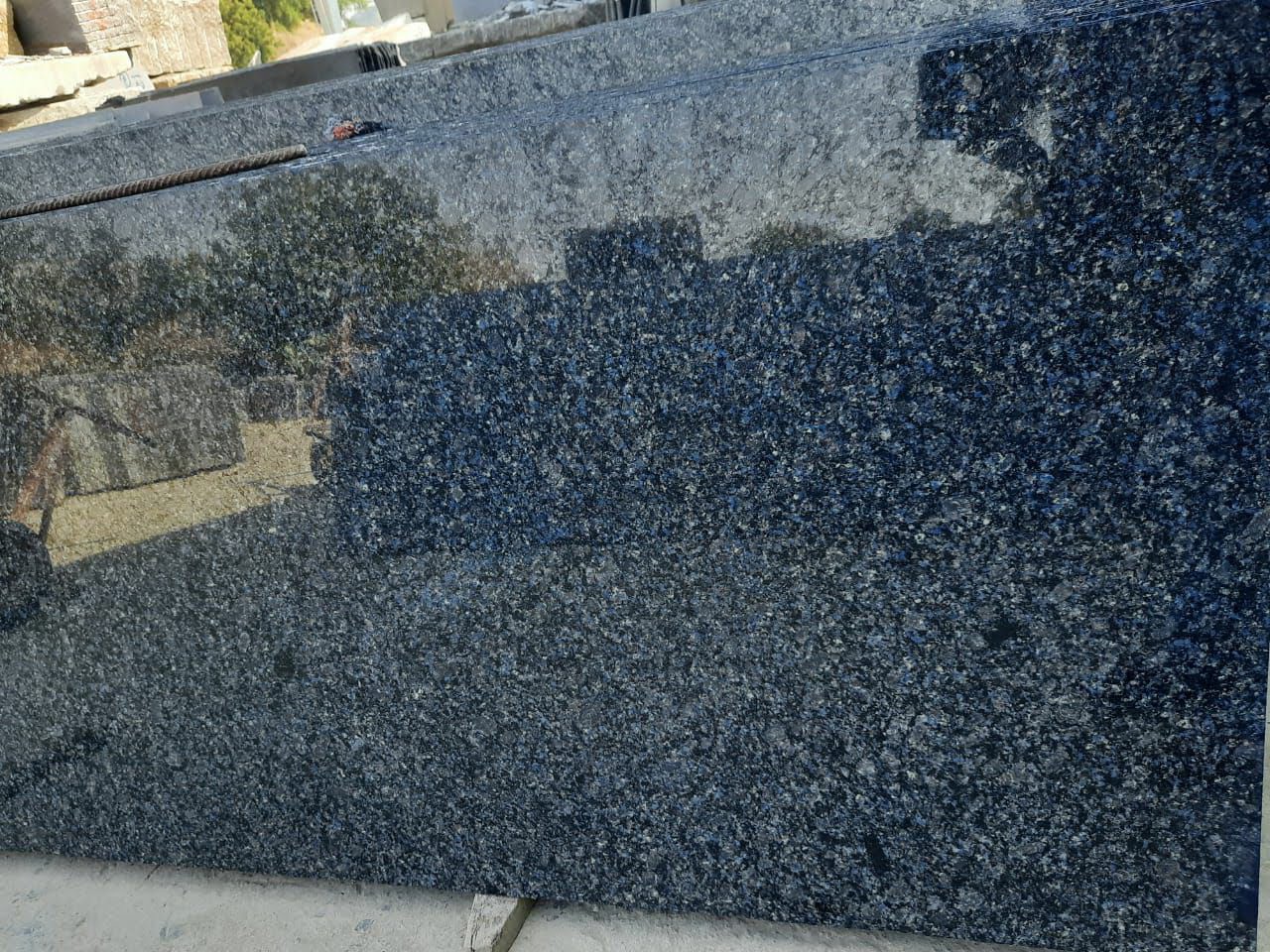 Quarried from India, sapphire blue granite features an elegant combination of blue, black, gray, and brown colors. The surface is decorated with intricate patterns of flecks that give it a fascinating look under bright light. It can be contrasted with light-colored cabinetry, but its versatility.
Blue Quartz Countertops
If you want the same richness of blue color at a cheaper rate, blue quartz countertops are a decent alternative. 
Synthetic means of producing blue quartz countertops lower the cost. Crushed quartz, blue pigments, and dyes are mixed to give blue color to otherwise white quartz. The whole mixture is then solidified using a binder. 
Despite being man-made, blue quartz countertops are still a durable blue kitchen countertop or blue bathroom countertop option. 
Blue quartz countertops come in a variety of colors, some even better than blue granite colors. Here are a couple of blue quartz countertops kitchen to get you started:
Skye Cambria Quartz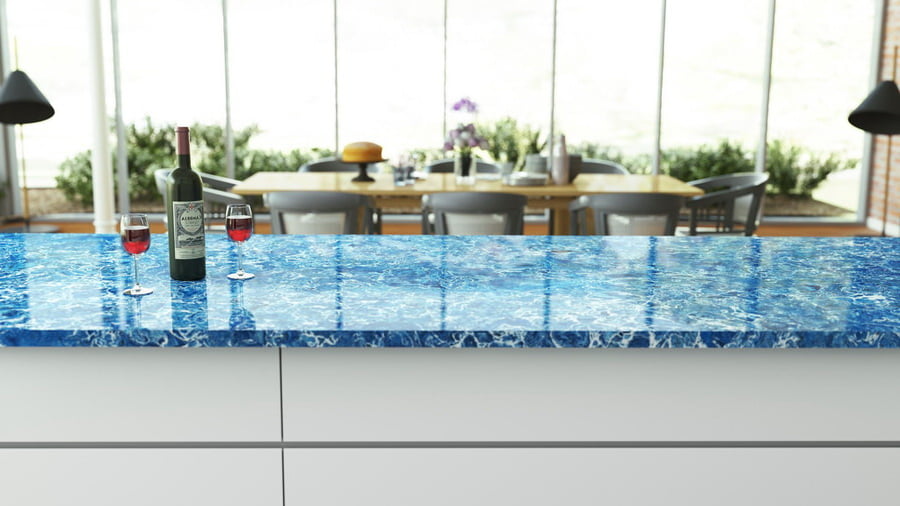 This blue quartz countertop feels like an aerial view of the ocean. Majorly light blue, it has other vibrant colors like green and gray suspended in the intricate pattern of white streaks. This would make an excellent blue kitchen countertop with white cabinetry or a blue bathroom countertop with a white floor plan. 
Charston Cambria Quartz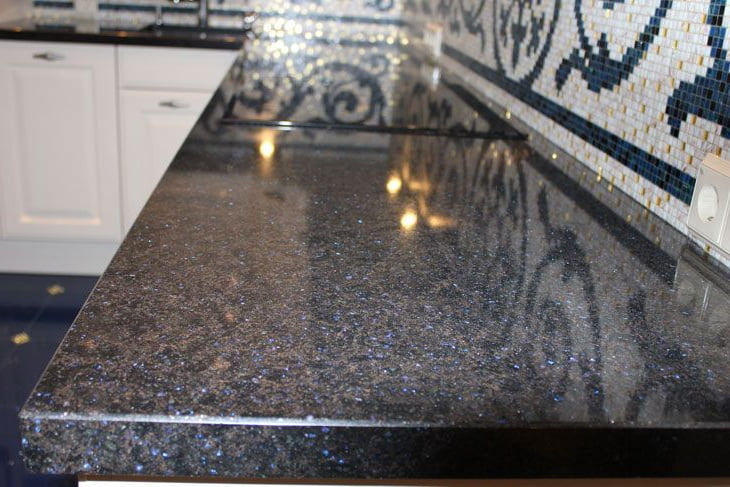 It's one of the darkest blue quartz countertops. Overall, the surface is pitch dark with specks of dark blues all over it. It's an excellent option for people obsessed with dark themes.
Time to give your kitchen and bathroom a new and serene look
With so many countertops available out there, decision fatigue can cloud your judgment. Also, the whole installation process can bring some unwanted anxiety. But it can be avoided if you trust professionals like us. Head over to our website, get yourself a free estimate of cost, and enjoy an anxiety-free installation experience!